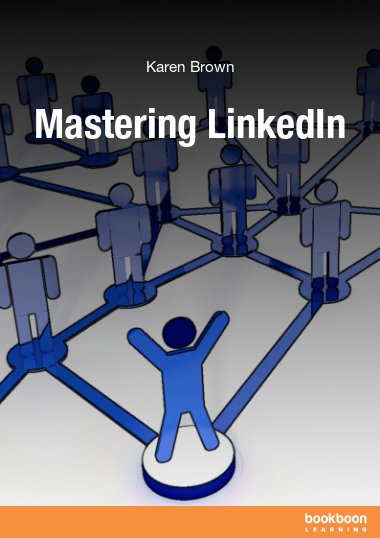 Read More
Mastering LinkedIn
Buy this eBook or start a free 30-day trial
Bookboon Premium subscription gives access to 800+ educational ebooks
Did you know that in 2012:
- 93% of recruiters used LinkedIn to recruit for permanent and temporary jobs
- 77% of all job openings were posted on LinkedIn and 48% were ONLY posted there
This means that if you are looking for work, then you need to leverage the power of LinkedIn. But, like any computer application, using it well is part art, part science. This free eBook will:
- Teach you how to set up and optimise your LinkedIn profile – your online CV.
- Show you 11 ways or places that you can find new contacts. This will help you strategically build up a network of contacts at the companies that you are interested in working for.
- Show you 5 places on LinkedIn where you can find jobs.
- Show you how to set up email alerts for jobs, so that you hear about them as early as possible.
- Provide you with a simple checklist to sure make that you have everything covered.
This book doesn't guarantee that you'll get your ideal job, that's up to you, but it will help you in your quest to find it!
LinkedIn is a social media giant, having over 225 million users worldwide (as at June 2013). It is used by professionals to:
- Post their Curriculum Vitae (CV), also known as a résumé, on line.
- Develop a network of connections.
- Demonstrate their expertise through status updates and group discussions.
- Research companies and educational establishments.
- Keep up to date with the latest developments in their field, through group discussions and thought leaders.
- Find, and in some cases, apply for jobs.
Like all computer applications, using LinkedIn is part art and part science. The science bit is being able to navigate around the application and complete fields of information. The art lies in understanding how it works and leveraging that to your advantage. This is how this eBook will help. It will take you on a journey, helping you set up a basic account, teaching you how to optimise your LinkedIn profile, showing you how you can build up a network of contacts and ultimately assisting you to find jobs through LinkedIn.
About the Author
Introduction
Setting up your LinkedIn account
Take a tour of your LinkedIn account

Home
Profile
Network
Jobs
Interests

Optimising your LinkedIn profile

Getting found in search results
How to get a 100% complete profile

Developing your LinkedIn Profile

Switching off activity broadcasts
A word about spelling and grammar
Adding and uploading supporting documents
Your thumbnail
Your background
LinkedIn profiles in multiple languages
Other parts of your profile
Don't forget

Building Connections

What are connections?
The types of connection on LinkedIn
Where you can find connections
Sending out "Invitations to connect"
Accepting "Invitations to connect"
Removing connections

Job seeking on LinkedIn

Job seeking 101
Where to find jobs on LinkedIn

Keeping on top of your LinkedIn account

LinkedIn mobile apps
LinkedIn integration with MS Outlook
Manage emails from LinkedIn
Task Lists

Your final LinkedIn checklists

Your LinkedIn profile
Your Connection strategy
Job hunting with LinkedIn
Your digital footprint
Great depth and insight and right-to-the-point. Thank you Karen.
Excellent book with incredible detail.
This is a very nice book, I advise everyone to use it.