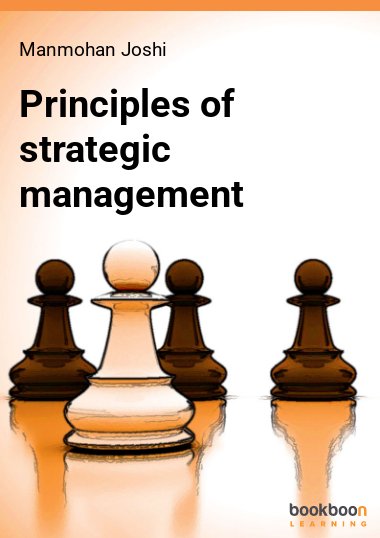 Read More
Principles of strategic management
Buy this eBook or start a free 30-day trial
Bookboon Premium subscription gives access to 800+ educational ebooks
The strategic dimension of management has grown in importance over the last several decades, largely due to the increasing complexity of modern business organisations. It is therefore not a dimension which any contemporary manager or administrator can afford to ignore. In order to examine how today's situation has arisen – with the emphasis being placed on strategic management – we must look back to the 'roots' of management thinking with regard to management as an integrated activity, and the various elements or functions of which it is composed. This book provides an insight into the principles of strategic management, and will be useful to the students and practitioners of management.

The Process Of Management


Introduction

The Process Of Management

Fayol's Elements Of Management

Contemporary Views On Management Functions

Planning In Management

Strategic, Tactical And Operational Planning


Meaning And Nature Of Strategic Management


Introduction

Definition

Need For Strategic Management

The Theorists And Their Theories


History And Relevance Of Strategic Management


Introduction

History Of Implementation

Strategic Planning

The Strategic Manager

Why Strategies Fail?


Corporate Objectives And Planning


Introduction

Corporate Planning

Corporate Objectives

Policies

Ethics In Business

Social Responsibility

Overview Of Corporate Planning

Factors In Corporate Planning


The Anatomy Of Implementation


Introduction

Strategy Implementation With Operating Plans

Setting The Stage

Setting The Right Priorities And Objectives

SWOT Analysis


Tracking Strategy Implementation


Introduction

Issues Involved

Complex Systems

Measurement Of Performance

Development Of Measurement Package


Implementing Strategy


Introduction

The Planning Group

Planning Group Working Sessions

Sponsor Approval And Plan Implementation Launch

Implementing The Operating Plan


Multi-Businesses


Introduction

The Corporate 'Gap'

Entrepreneurial Activity And Corporate Planning

Business Planning

How Should Multi-Businesses Compete?

The Corporate Centre

The Board

Integration Of Business Units

The Global Business

Strategic Alliances

Selecting Partners

Making Strategic Alliances Work

Alternate Corporate Strategies

The Final Stages


Small Businesses


Introduction

Entrepreneurs

Planning And Strategic Management In Small Firms

The Nature Of Strategic Management In Small Firms


E-Business


The Growth Of E-Business

Issues For New E-Business

Consolidation

Operational Efficiency

E-Business Strategies For Established Firms

Strategy Process And E-Business

Value Chain Analysis

A very good basic strategic management text suitable for executive education and graduate master's programs.
Very creative and purposeful.