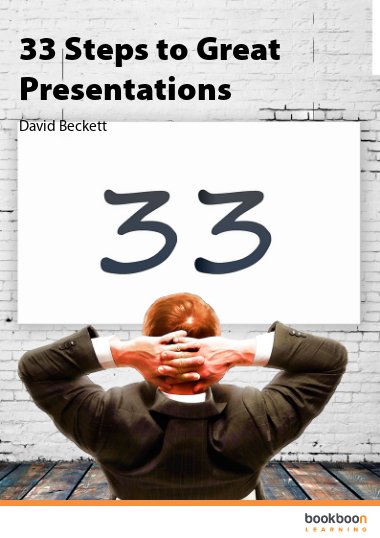 Read More
33 Steps to Great Presentations
Buy this eBook or start a free 30-day trial
Bookboon Premium subscription gives access to 800+ educational ebooks
Develop your presentation skills three minutes at a time!
Presentation is the single most influential activity in your career. Improving your ability to present yourself and your work guarantees increased earning potential and a faster track to success in your business life.
In 33 chapters, each of which you can read in three minutes or less, David Beckett shares his 20 years of experience, based on hundreds of presentations given to thousands of people. You'll find numerous workable tools and examples, which will enable you to develop new skills and deliver outstanding presentations. After this book, you will be able to;
Prepare your content and yourself
Use the Power of Three
Make a great impression in the first 60 seconds
Make your presentation interactive
Deliver a presentation in just 3 minutes
I love making presentations. Equally, I recognise public speaking is a challenge that can make many people very nervous. In fact, it can be downright terrifying.
This has led me to spend hours discussing what it takes to present successfully with numerous colleagues and friends. We've hung our heads after the horrors, when it all went terribly wrong: those were the times to make an honest assessment of what we could have improved. We've also celebrated together when it's gone well, yet still hunted for those polishings and sharpenings that could make it even better next time.
Over the last twenty years, I've coached hundreds of people and get a huge kick out of seeing them improve their presentations skills. I love seeing the kick they get out of it for themselves too.
In this book, I'm very happy to share the essentials of how to prepare, deliver and follow up on a great presentation. And finally you'll find yourself perfectly capable of giving a complete presentation in just three minutes.
Author Bio: David Beckett
Why I wrote this book and how it will help you
The Three Minute Promise
Why making good presentations is important
The good news
Preparing Your Presentation

Prepare your platform
How much time to spend on preparation
Get started with your preparation well in advance
Communication is what the listener does
Assess your audience's expectations
Know your venue and how to get there
Focus on your delivery more than the details
Test-drive your talk
Use PowerPoint as a tool and consider other options
Use the Power of Three
Put your presentation together on Post-it notes
Keep the details on your slides to a minimum
Construct your slides: simple, clear, concise
Check out the equipment at the presentation venue
Buy yourself 10% extra confidence
Preparing Your Presentation: Summary

Delivering Your Presentation

Gain confidence by visualising in advance
Keep calm if you make mistakes
Ensure they remember the important stuff
Don't learn your script
The first 60 seconds
Use body language to express yourself
Emphasise your message by using your hands in a conscious way
Break through the voice barrier: listen to yourself
Share your eye contact
Make it interactive once you've gained confidence
The standing up game
How to manage a Q&A session
Give handouts at the end, never at the beginning
Finish with a bang
Follow up
Delivering Your Presentation: Summary

Three Minute Presentation

You really can do all this in three minutes
Prepare an elevator pitch
Practice makes perfect, again and again
The Three Minute Presentation: Summary

Final Thoughts: Get advice and feedback wherever you can
This book will give me confidence when presenting my university papers.
This book is very important because it assists in mastering presentations during seminars and workshops
This is a material that will challenge you in presenting in various ways and not failing in achieving set goals. Great book!