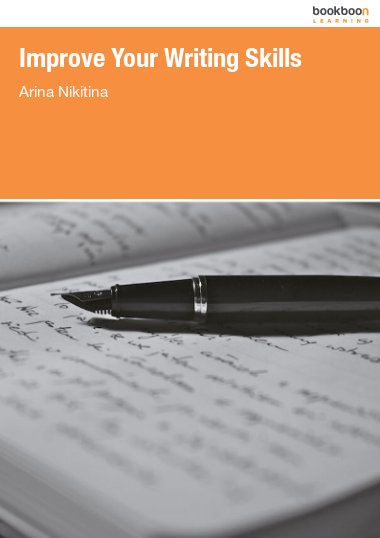 Read More
Improve Your Writing Skills
Buy this eBook or start a free 30-day trial
Bookboon Premium subscription gives access to 800+ educational ebooks
"Improve Your Writing Skills - A Step-by-Step Guide to Compelling Content Creation" offers specific, easy to practice strategies and tools to help you: structure your material in a way that makes it impossible to ignore, optimize your content for Search Engines and rank at the top of Google, position yourself as a brand or an expert, improve your business communications, and establish a strong connection with your audience.
Preface
Introduction
Reading Behaviors in the Real World vs Online
Introduction
5 Major Differences Between Online Writing and Print
The Keys to Understanding Your Audience
3 Questions to Address with Your Writing
Communication Triangle
Who Are You Writing To? Creating Reader's "Avatar"
Writing With Purpose
Who Are You? - Finding Your Voice
How to Create Connection with Your Readers
Reasons to Connect with Your Readers
3 Infallible Steps to Creating Instant Connection
Golden Ratio of Trust: Give First
Writing for Web
9 Guidelines for Effective Online Communication
Writing for People and Search Engines
What is SEO?
Why SEO Techniques are Making Writing Profitable?
How to Optimize Your Content for Search Engines?
Intelligent Creation of Micro-Content
6 Rules for Creating Eye-Catching Headlines
Do's and Don'ts of Headlines
20 Best Headline Formulas That Work
The Ninja Tricks of Email Marketing
Is Email a Dying Species?
Getting your Email Opened: Writing a Compelling Subject Line
How to Make your Subject Line Spam-Filter-Proof?
Having Your Email Read: 5 Must-Follow Rules of Email Writing
Double-Check Your Message: the Three "U" Criteria
References
Excellent and a must read self understanding ebook..
It is a very good and useful book to start off with if you are a poor writter
Very helpful and full of useful tools.
Awesome resource for web writers and bloggers. Thanks Arina!
So far, this is the best reference that talked about SEO. Even if its just part of the whole ebook, the author was able to include the essentials and wrote it in its simplest manner.