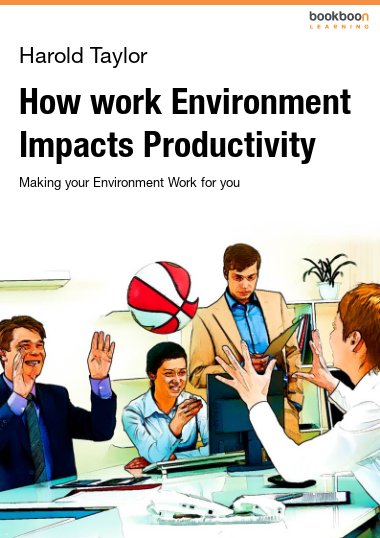 Read More
How work environment impacts productivity
Making your environment work for you
Buy this eBook or start a free 30-day trial
Bookboon Premium subscription gives access to 800+ educational ebooks
Your work environment influences your productivity. Potted plants, white noise, music, natural lighting, air circulation, physical organization, windows facing the outside world, the ability to feed off the energy of others, and even a cheerful office decor with scenic pictures on the walls can increase productivity as well as improve mood and personal well-being.
Referring to recent research, this book outlines factors besides the usual organized layout that can have a direct influence on your personal productivity as well as on your physical, mental and spiritual health.
For example, the presence of plants can improve productivity, creativity, performance and learning ability. And they not only give off oxygen, they are able to absorb environmental chemicals and transport them to the soil, rendering them less harmful. Office colors found in nature, such as blue and green, increase efficiency and focus while lowering the stress level. And the right background music can increase creativity as well as performance.

Advice for those working without an office


The value of structure

Choose a "high performance" work area

Your work environment can help counteract low self-discipline

Manage yourself as well as your office


Overcoming productivity killers


Are distractions depleting your energy?

Why isn't productivity increasing?

Nine to five is no longer an option

Boosting performance in your office and work area


Getting organized helps reduce productivity killers


Work at a desk, not a bed, sofa or reclining chair

Getting organized adds meaning to life

Color me organized

Books, books and more books


Organizing your desktop helps organize your mind


Organize your electronic files

Your electronic folders must identify their contents

Organize your mind

Clearing the clutter from your mind


An office is for working, not sitting


Don't remain chained to your desk

What can you do about it?

For creativity, take a walk

Thinking outside the box


Improving performance with office greenery


Increasing productivity can be a walk in the park

An office in the country

How nature can impact productivity

Can colors actually impact performance?


How background noise can boost productivity


The power of music to calm and heal

Music's impact on creativity and productivity

Advantages of working at coffee shops

Bad habits may not follow you to a coffee shop


Social interaction is more important than ever


Don't work in isolation

Social interaction aids both productivity and well-being

Social media is not a replacement for one-on-one contact

Social relationships become even more important as we age

The power of social relationships


Friendships and productivity go hand in hand


Listen to what your brain is telling you

Performing acts of kindness

Friendships can extend your lifespan

Be mindful of people


Closing remarks

Books referenced for the impact of environment on personal productivity

This is a useful readable book with ideas about how to arrange the work environment and it's possible or likely impact on your productivity. It cites a number of news reports but does not delve into actual research findings about this important topic. Perhaps an area of interest that could be covered in future editions is the examples of Google or Apple and how the design of the work environment matters.