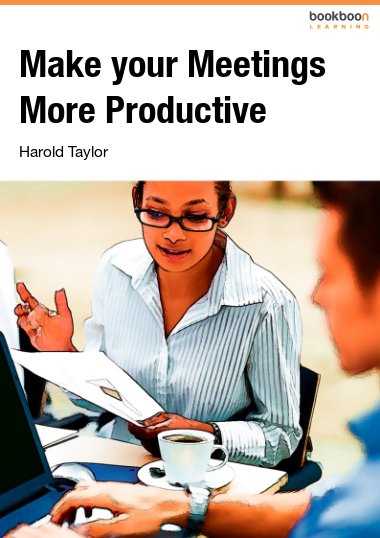 Läs mera
Make your meetings more productive
Köp den här e-boken eller börja en kostnadsfri 30 dagars provperiod
Abonnemang på Bookboon Premium ger tillgång till över 800 kunskapsbaserade e-böcker.
Short on time? read this first


Business meeting essentials

Checklist for more effective meetings


How are your meeting management skills?


Are you an effective chairperson?

The value and cost of meetings

How much time do you spend in meetings?


Plan your meetings carefully


When is the best time to hold meetings?

Success is in the little things

Preplanned seating

Preparing the agenda

Plan to have refreshments at all meetings

The meeting location is important

Fewer people make for more productive meetings


Control the meeting at all times


Get off to a good start

Don't misinterpret those yawns

Stand-up meetings

The 60-minute modular meeting

Control the discussions

Be decisive as a group

The high cost of meetings


Be a responsible participant


Question the value of your attendance

Be prepared for the meeting

Take an active part in the meeting

How to listen effectively

Death by powerpoint

Attention spans are decreasing

In addition to discussing how you can improve the effectiveness of your meetings, this book indicates how the various factors such as location, timing, meeting environment, seating and attendance impact their success. It also directs an entire chapter to those who attend meetings, indicating how they can help increase the productivity of the meetings they attend. Guidelines for both meeting managers and participants are included, as well as advice on drawing up the agenda and an action sheet for participants.