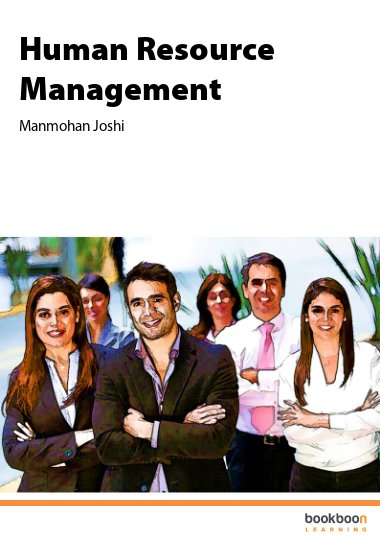 Read More
Human Resource Management
Buy this eBook or start a free 30-day trial
Bookboon Premium subscription gives access to 800+ educational ebooks
An organization can achieve its objectives only through the utilization of human effort. Its 'human resource' is, therefore, very important. An organization's 'human resource' comprises the combined contributions in the form of efforts, skills or capabilities of the people it employs. In order to manage the wide variety of people working in an organization in the complex business world of today, it has become necessary to apply scientific and practical systems of managing people. This book is an attempt to provide an insight into the various elements which constitute Human Resource Management.
Human Resource Management

Meaning of Human Resources
Human resource functions
Organization culture
Human resource activities in management
HR specialists
Strategic aspects of HRM
The HR manager
Industrial relations
The role of HR department
Effects of a good HR policy
Responsibilities of HR department

Manpower planning, recruitment and selection

Expansion of organization
HR or manpower planning
Self-regulatory manpower control
Problems caused by expansion of organization
Scientific management
Organization and Method Studies (O & M Studies)
Recruitment
Policy of recruitment
Recruitment process
Selection

Induction, Training and Employee Development

Induction
Training and development
Need and benefits of training
Types of training programmes
Training and development methods
Characteristics of a good training programme
Evaluation of training

Health, Safety, Security and Welfare

HR department's responsibilities
Fire prevention and fire fighting
Medical facilities
Safety and security officers
Prevention of theft and pilfering
Employee welfare

Motivation, Employee Counseling, Resignations and Retirement

Motivation
Style of management
Changes in management attitudes
Contributors and theorists
Motivation strategies
Managerial styles in HR management
Disciplinary action
Employee counseling
Equal Opportunity Policy
Resignations
Retirement

Performance Appraisal

Purpose of Performance Appraisal
Importance of Performance Appraisal
Steps in Appraisal
Methods, techniques and tools

Remuneration

Remuneration policy
Systems of remuneration
Standard employee benefits

Personnel Records and Statistics

Need for Personnel Records
Information in Personnel Records
Formats of Personnel Records
Reports
Learning Organizations

Industrial Relations

Trade Unions
Collective bargaining
Industrial action
Joint consultation
Staff Associations
The Role of HR Manager

References
About the Author
Excellent, this book help people like me who seeks for education/theory to use in practical career.
This book is good for any student interested in knowing the relevance of Human Resource Management.
This book contains a lot about HRM. It is very useful.
An excellent book. Found it very useful for my academic work. Please add publisher and country for ease of reference by academia.
It was excellent. Easy to understand and the fact it was free made it perfect.
This is a very detailed book, and gives an insight into all the aspects of Human Resource Management.