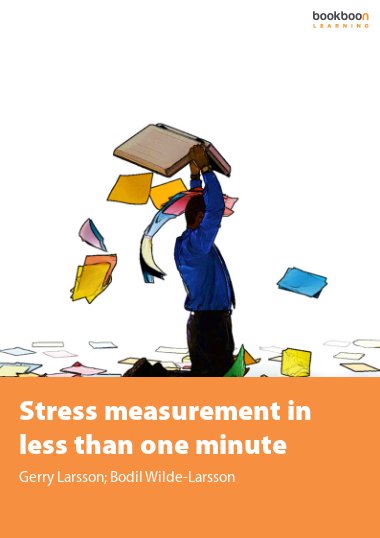 Read More
Stress measurement in less than one minute
Buy this eBook or start a free 30-day trial
Bookboon Premium subscription gives access to 800+ educational ebooks
Drawing on the scholarly writings of the late professor Richard S. Lazarus, the book presents the development of the Emotional Stress Reaction Questionnaire (ESRQ). With this tool, psychological stress can be measured in less than one minute! The first part of the book presents the development of the ESRQ, its theoretical foundation and psychometric properties. The second part illustrates how the instrument can be used in personal coaching focusing on stress management.
Introduction
Tell me how you feel and I will tell you what you think

Appraisal and coping processes
Complicating circumstances
Stress

Antecedent conditions

Individual antecedent conditions
Contextual antecedent conditions
An illustration - antecedents of leadership

Stress and performance

Summary

From theory to a measurement tool: Development of the Emotional Stress Reaction Questionnaire

Selection of items
Response scale
Administration of the ESRQ

Interpretation of ESRQ results

Theoretical measurement considerations
Practical measurement considerations related to the ESRQ

Two additional forms of the ESRQ

ESRQ-Moral stress
Measurement of moral stress
ESRQ-Care

Empirical findings

Method
Results
Discussion

Thoughts on future use of the ESRQ

Research suggestions
Suggestions applicable to research as well as to practical interventions
Practical clinical and coaching suggestions

Stress management coaching

Initial comments on coaching
A general framework for stress management interventions

Practical tools

Life story line
Relationship map
External and internal stressors
Cognitive coping patterns
Stress reactions

A not so ordinary teachers' seminar
Applying the stress theory to the three teachers

Teacher 1: Eric
Teachers 2 and 3: Lily and Elizabeth

Final remarks
References
That's great, very easy to learn from.
Very helpful. It offers assistance in allowing you to assess your stress level and manage it.