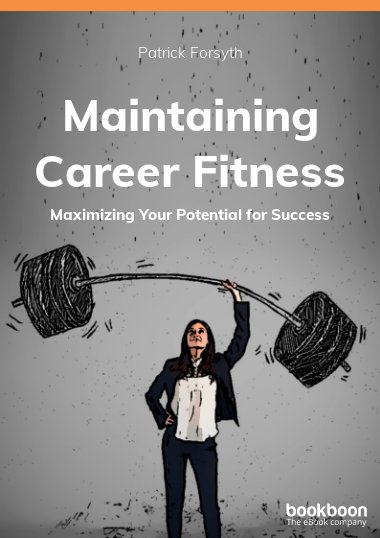 Read More
Maintaining Career Fitness
Maximizing your potential for success
Buy this eBook or start a free 30-day trial
Bookboon Premium subscription gives access to 800+ educational ebooks
Career success rarely comes on a plate. Making progress, being successful and being rewarded for it needs working at. Many factors contribute, but, whatever else, you need to "know your stuff" in terms of both knowledge and skills. This book shows how you can become and remain career fit.

About the author
Patrick Forsyth is a consultant, trainer and writer. He has worked with organisations large and small and in many different parts of the world. He is the author of many successful books on management, business and careers and prides himself on having a clear how-to style.
One reviewer ("Professional Marketing") commented: Patrick has a lucid and elegant style of writing which allows him to present information in a way that is organised, focused and easy to apply.
In this series he is also the author of several titles including "Your boss: sorted!" and "How to get a pay rise". His writing extends beyond business. He has had published humorous books (e.g. Empty when half full) and light-hearted travel writing: First class at last!, about a journey through South East Asia, and Smile because it happened about Thailand. His novel, Long Overdue, was published recently.
He can be contacted via www.patrickforsyth.com

Introduction: The Need To Be Career Fit

The Development Process


The Nature Of The Development Process


Development In Action


Positive Results


Stepping Stones To Success


Reviewing And Choosing Methods

The Traditional Course (In All Its Forms)

Activity Courses

Simulations

No Stone Unturned


Creating Career Enhancing Opportunities


Making It Work

Making It Happen


Summary: Ten Steps To Being "Career Fit"


Resolve To Be A Regular "Self-Developer"

Analyse And Set Clear Objectives

Make And Use A Plan

Create Sufficient Time

Learn From Experience

Learn From Others

Spot Opportunities

Utilise A Mix Of Methods

Monitor Progress

Aim High And Be Positive

Splendid. Fitness issues at the workplace is long over due.