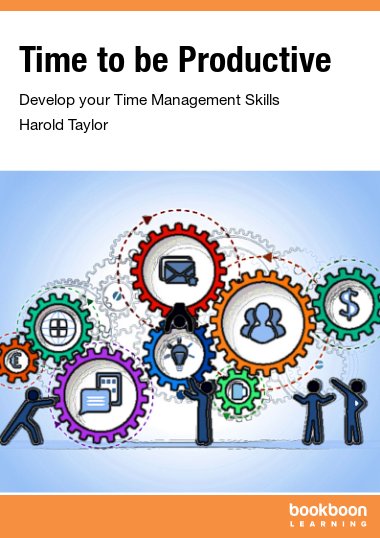 Mehr lesen
Time to be productive
Develop your time management skills
eBook kaufen oder kostenloses 30-Tage-Abo starten
Zugang zu über 800 eBooks zur Weiterbildung mit dem Bookboon Premium Abo
In this digital age of speed, technology offers challenges as well as benefits. While we scramble to get things done among interruptions, distractions and incessant communications, our working day expands while our personal productivity shrinks. We need new strategies to remain effective in this digital age of speed.
Efficiency is doing things right. Effectiveness is doing the right things. Excellence is doing the right things right. All three are threatened by this digital age of speed where the emphasis seems to be placed on doing things faster rather than on the significance of the things we do.
In Time to be productive, Harold Taylor identifies the strategies that are losing their impact, those that should be emphasized even more, and newer strategies based on the belief that the battle for personal productivity is shifting from the office to our minds.
By taking control of technology, managing email, reserving time for helicopter planning, scheduling "work breaks," applying the sigmoid curve and the 90-minute rule, and following your body clock, you will be able to build a consistent habit of working productively each day.
Man's quest for increased productivity

Time management beginnings

The changing environment in which we live and work

A new environment requires newer strategies
Speed is the new currency
The hazards of speed

Understanding time management

The difference between managing time and getting organized.
Time management continuum
Efficiency vs. effectiveness
Don't confuse busy work with real work
Holistic time management

Planning – the key to a successful future

Helicopter planning
The Sigmoid Curve
Vision
Mission statement
Personal policies

Shaping your future with goals

Do you really need goals?
What makes for effective goals?

Converting plans into achievements

A planner is your most important time management tool
Choosing a planner
Time for a "work break."
Ten ways "To Do" lists can work against you.
PDAs vs. paper planners

Managing technology

Control technology without it controlling you
Why isn't productivity increasing?
Technology is a double-edged sword
Don't get lost in the electronic jungle
Is the Internet making us stupid?

Email: use it without it using you

Email has become a 24/7 phenomenon
Managing your email.
What is your Reactive Ratio?
Write email messages with your purpose in mind.

Keep your life in balance

What is life balance?
Signs your life is getting out of balance
Ways to maintain balance in your life
Juggling a career, home and family
Simplifying your life
Ways to simplify your life
Don't put off living

Books referenced
About the author
The productivity involved in this book didn't just focus on work or business-related issues, but the various aspects that affect a person's life. Must-read.